Support Consumers Union of Japan (CUJ)
Get the latest Japanese newsletter from
Consumers Union of Japan, in Japanese
. CUJ was founded back in 1969 and has been an independent voice for a long time.
Do check out the
CUJ history, in English
. I remember how proud we were when we got the NPO legislation status. Our main focus has been on the UN Convention of Biological Diversity, and the WTO, and the TPP. We also care about food labels and other cases of consumer fraud.
Consumers Union of Japan (CUJ) is a politically and financially independent non-governmental organization (NGO). CUJ is funded by membership fees, sales of its publications and donations. CUJ was founded in April 1969 as Japan's first nationwide grassroots consumer organization. It was officially certified as a non-profit organization on May 1, 2006 by the new Japanese NPO legislation.
NPO, NGO... these are the ways the government tries to keep people at bay. But Consumers Union of Japan and its many campaigns have managed to stay independent over 40 years. People will try to organize but it is not that easy. CUJ has the record to show that it can be done. Noone can argue against consumers getting together and making their case against big business and government, and often there is revolving door issues in the ministries that are supposed to regulate in people's favour. Revolving door? In Japan it is known as amakudari.
Do support CUJ, a force for good in Japan, since 1969. Do help CUJ deal with the many issues that you read about. CUJ is working on them. CUJ needs all the support and attention it can get. Check out our English website and blog about it, tell your friends, do a like on Facebook or Twitter, help CUJ get the message across. Can you imagine the hardships back in 1969 when CUJ was founded?
CUJ's current campaign deals with
trade
and
biodiversity
, as well as other issues like food safety, vaccines, medical claims, and of course Fukushima. In 2013 CUJ also participated in the protests against the new secrecy act. Next year we plan to participate in the UN Convention of Biological Diversity meeting in South Korea. Will you help CUJ?
Become a Member and Support CUJ (in Japanese) here:
Kaiin ni naru
Get the
newsletter
and
booklets
(J)
Check out the
CUJ schedule for events
(J)
But remember, we keep track of a lot of issues in English as well, with your help.
Consumers Union of Japan and other groups that we work with, including the No! GMO Campaign, have a focus on the global negotiations to protect biological diversity. Our 2010 campaign network, Japan Citizens' Network for Planet Diversity, is now called the Japan Citizens' Network for Sustainable Food and Agriculture (in Japanese). The Convention of Biological Diversity has implications for both wild nature and agriculture, and affects consumers in a number of ways.
We are particularly concerned with the wild-growing genetically modified canola plants that we have found at many locations around Japan on numerous occasions. The first investigations by concerned citizens started in 2004. The spilling occurs mainly near harbours and by roads leading from the harbours to food oil companies. Japan's importing companies and food oil companies that make canola oil, as well as the transport companies involved, are all directly responsible for the contamination of native canola (including rape seed, natane). Read more about the October, 2010 Report about GM Canola Contamination in Japan. We introduced this report at a side-event at the CBD conference in Nagoya on October 12, 2010.
We have also protested against genetically modified papaya. In particular, illegal GM papaya trees were found growing in Okinawa. We highlighted the need for better legislation at the 2012 CBD conference in Hyderabad, India.
Activists around Japan are holding a number of events and conferences about biodiversity, as well as local study group meetings and demonstrations. We are very concerned about how genetically modified organisms can be a threat to biodiversity. CUJ has participated in the GMO-Free Zone conferences in Europe since 2008. For more details see the Planet Diversity website (in English). In November 2013 we participated in the Third World Network biosafety expert conference in Quezon City, the Philippines to discuss GM issues especially relevant for Asian countries.
The issue is getting serious, and we call for an end to imports of genetically modified canola. Crops that can contaminate local plants should not be imported. Meanwhile, we need strict rules for liability and redress to deal with contamination issues that arise from trade with the genetically modified crops. Rules are needed and they should be legally binding with effective compliance at the local and national level.
Detailed Analysis Of The Nagoya Results
Photos from the Planet Diversity events in Nagoya!
On Sunday October 10, 2010, a number of organizations held an out-door pre-event from 10:00-16:00 at the Sakae Mochi no Ki Hiroba in Nagoya. The Planet Diversity Parade from 15:00-16:30 on that day was a huge success with over 1,000 participants!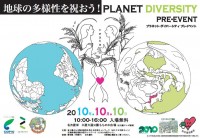 Getting Ready For Nagoya
Since 2004, groups of volunteers have participated in activities to investigate wild-growing GM canola near roads and harbours in many locations around Japan. Of course there are many other examples of how genetic engineering and monoculture farming of GM crops will contaminate conventional and organic food production.
Japan Resources Special Biodiversity Issue
Biological Diversity & Organic Farming: 2010 was the Year of Biological Diversity and here in Japan, we prepared for the United Nations conference in Nagoya in October, 2010. In this special issue of our English newsletter you will find articles about experts and activists in Japan and from abroad with much to teach us about biodiversity and sustainable farming methods.
GM Rice And Contamination Cases Worry Consumers In Japan
Japanese consumers are strongly opposed to genetically modified foods, according to several large opinion polls.
Biodiversity In Focus: Genetic Modification Of Living Organisms Is A Threat
Christine von Weizsäcker visits Japan: Genetic modification of living organisms is a threat to biodiversity. In October 2010, an important international conference was held in Nagoya, Japan, to discuss the integrity of biodiversity, as genetic engineering threatens to influence and disturb the ecosystems around the world.
Protect Biodiversity In Nagoya
Protect biodiversity from living modified organisms at MOP5 in Nagoya!
Japan Citizens' Network for Planet Diversity (JCNPD) is a nationwide network for citizens who are working on protecting our food crop diversity from living modified organisms.
Report From The Planet Diversity Conference In Bonn, Germany 2008
Consumers Union of Japan participated together with other Japanese NGOs at the large Planet Diversity conference in Bonn, Germany on May 12-16, 2008. It was a global congress on the future of food and agriculture, with a demonstration to celebrate biodiversity.
============================================
Other biodiversity-related links from Japan:
In Defence of Biodiversity (in English by the editors of Kyoto Journal)
Japan Forum for Biodiversity ("CBD Shimin Net" in Japanese)
Bio Journal (Citizens' Biotechnology Information Center)
WWF Japan Wildlife Campaign
2010 International Year of Dugong (Saving the Dugong in Okinawa)
A Seed Japan (Several projects, including Access and Benefit Sharing)
FoE Satoyama Project (Focus on Japan's agricultural homelands)