My Town, The Anime Version
If you like mountains and are up for a bit of a climb, there are lots and lots of wonderful places in Japan.
I live north west of Tokyo and suddenly my town is the center of a mountain climbing boom, now further spurred by the anime Yama no Susume (Recommending the Mountains).
I'm selling my veggies at the Times Mart store mentioned below.
The characters in the anime are students in a high school just 5 minutes from my house, and they get increasingly brave as they try new hills and venture out in nature.
I don't teach English, but there are always the odd foreigner walking down the main road, who do indeed teach at Seibo, so - I don't blame some of my neighbors if they confuse me for that crowd. Do get in touch.
If you come from Tokyo, this is one of the very best places to explore mountains. My town has of course made some efforts to encourage this trend. Local shops are putting up large billboards with the girls from the anime, and just this weekend, there was a city-sponsored event.
Nevertheless, people have come here by their own accounts, and the place is within easy access.
Tenransan in Hanno and Takao in Tokyo and other hills mentioned in the anime are not huge, but the point is to get all kinds of people to start on an adventure.
And learn a lot.
If you come to Hanno to climb Tenransan, do pay your respects at the large Edo era temple,
Noninji
.
This was an area that linked Edo to the forests.
Wood for buildings in the capital was shipped from here utilizing the many rivers.
Hanno and Chichibu also made silk and other strong materials, and there are many Kura (warehouses) that showcase the importance of this region.
Further west you get the Oku-Musashi mountain range, and if you arrive here on the Seibu Ikebukuru line, you'll pass Iruma, the Self Defence Air Base.
It used to be the
Johnson Air Base
(Youtube link to listen to the broadcast of the top 20 from the Far East Network with images from back then) which is highlighted fondly by many Americans who served there.
Bloggers specializing in comparing images from their favourite anime and real locations have caught on to this trend, here is
Shinkirou
Now, even the Yomiuri has noticed this trend:
If you are a fan of "Yama no Susume" (Encouragement of Climb), you might be interested in visiting "sacred sites" of the anime by riding in style—in a bus decked out in images from the popular anime now operating in Hanno, Saitama Prefecture, the anime's main location.
The anime, an adaptation of a manga with the same title, is about local high school girls who deepen their friendship and grow through mountain climbing. When the anime was aired on Tokyo MX TV from January to March last year, young fans began visiting Tenranzan mountain, the scenic Hanno Gawara riverside and a shopping street in the city's central area—all of which were depicted in the anime.
In the spring last year, the municipal government and local businesses set up a committee to promote the city by taking advantage of the anime's popularity. The organization has, so far, made a map to help visitors reach sites featured in the anime and organized tours to visit these "sacred sites."
Now, images from the anime have been printed on two buses thoroughly covering the vehicles' exteriors. Their patterns are different, but they show Aoi, Hinata and two other main characters, as well as local scenic spots, such as Tenranzan and Lake Naguri. Anime images also decorate the buses' interiors, covering the ceilings, seats, stop buttons and fare adjustment machines.
The buses are run by Kokusai Kogyo Co., mainly on regular routes in the city and also for chartered events such as primary school excursions and "sacred sites" tours.
The launch ceremony on April 29 attracted about 300 fans, including those from other prefectures such as Chiba and Kanagawa. They enthusiastically took photos of the buses.
"I was surprised to see these large illustrations," said Shiro, the original manga's creator, who attended the ceremony. "I'm happy these buses travel in the city area."
According to the city, the anime's sequel will be broadcast from July. The city plans to make it more popular, following the lead of the city of Kuki, which was featured in "Raki-Suta" (Lucky Star), and Chichibu, which was featured in "Ano Hi Mita Hana no Namae o Bokutachi wa Mada Shiranai" (Anohana: The Flower We Saw That Day), both in the prefecture.
Fan dubbed episodes 1-12:
This humble town with all its forests and rivers, suddenly a target of Tokyo tourism? I'm not so worried about that. If you need any support to make it to these parts of the wood, do let me know. There is so much to explore!
By walking along the river, you will arrive at the Wareiwa Bridge, which appeared in Episode 12.
If you go further down the river, you will arrive at the area where everyone was playing together in the anime. During summer, people enjoy swimming and having barbeques in this area. For those living in Saitama Prefecture along the Seibu Ikebukuro Line, this area is partly seen as a sightseeing location.
After you have played in the river, climb the short hill to see Central Park, which was shown in Episode 1, as well as Nonin Temple, which was shown in Episode 3. The garden at Nonin Temple has even been selected as one of the 100 Famous Gardens of Japan. Take your time and enjoy strolling through the temple's beautiful landscape.
Mt. Tenran, which appeared in Episode 3, is a mountain that Aoi and Hinata climbed together. From the top, you can see a sweeping view of the city, much like what is shown in the image at the top of the article. The mountain only takes about 20 minutes to climb, but make sure to wear appropriate shoes––it is a mountain after all.
This Times Mart is located in front of the entrance to the foot of the mountain. Here, you will find life-size character cutouts and a pilgrimage note. Furthermore, inside the store are many items to commemorate your journey, including Encouragement of Climb T-shirts and original goods.
If you travel to Mt. Tenran from Higashi-Hanno Station, you will be able to see the school that Seibo Academy, the high school that Aoi and Hinata attend that was shown in Episode 1, was modeled after. However, guest's aren't allowed to enter the school grounds. Also, since it is located in a residential area, please be courteous when taking pictures.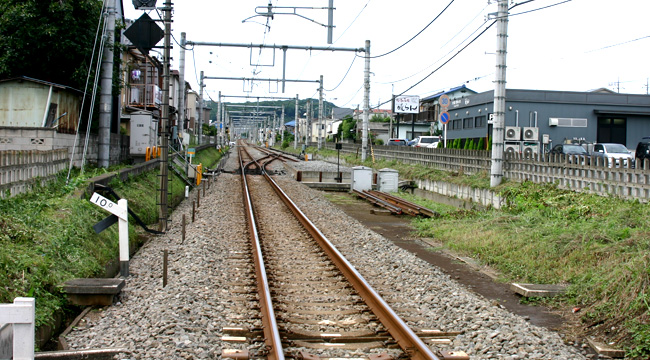 At this railroad crossing shown in Episode 1, a mountain range can be seen far off in the distance. If you'd like to take pictures in this area, be careful of oncoming trains.
Last on the tour is the Yaoko Hanno store shown in Episode 4. Again, because this is a supermarket used by the locales, please be courteous when taking pictures.
By following the location route specified on the map, visitors will be able to see the entire metropolitan area of Hanno City. Completing this tour on foot will take about four hours, so if you happen to come on a hot day, make sure to keep plenty of water on you as you enjoy the sights.
(c) Shiro / Earth Star Entertainment