Updates From Hyderabad, From Consumers Union Of Japan
Oh, I just could not resist. "Hyderabad" sounds just terrific, it is somewhere in India, and I'm sure all my long-suffering Kurashi readers cannot wait to hear what this is all about. The Convention for Biological Diversity. 2 years ago it was held in Nagoya, and in 2014 it will be hosted in South Korea.
Hyderabad, like Nagoya, are places that are trying to rise to the occasion.
Japan, India, South Korea... We are in the right spot for United Nations conferences. This CBD is one I am particularly interested in, as it attempts to deal with biological diversity, and that included all kinds of important issues about food and food safety. I hope Asia can do better.
My own personal concern was always food - we eat some plants and rely on the farmers to save seeds. We need a lot of variety of seeds to keep our main foods healthy, and make sure that they are easy to grow. Some of the seeds may not be commercially interesting, but they still need to be farmed or kept growing or kept safe from developers who prefer to pave over everything with asphalt and concrete. Such seeds are part of what CBD is trying to protect. Biological diversity for food crops means caring for regions that have the wild varieties, the related species, the insects and the birds and everything that makes our wheat and rice and corn and green veggies 菜 and all kinds of wonderful, nutritious crops alive...
Now, increasingly most of our major food comes from biotech companies like Monsanto, that have patents on genetically modified crops, GMOs. The focus is not on diversity, not on wild varieties. BASF and Bayer and Monsanto are promoting the type of monoculture crops that are more like the Armstrong bicycle racers. Yes, you win, but there are all kinds of side effects (cancer, death). No variety, just a "win" for the strongest. But for biological diversity to work, we need a number of others to thrive. They may not have the most superior yield, but they are strong in other areas...
The genetically modified organisms are dealt with at the UN level at this convention, the Convention of Biological Diversity. It is called CBD. It tries to protect all kinds of plants from getting extinct, or getting contaminated by GMOs. CBD was designed to deal with living organisms, just like the more famous UN body for climate change was supposed to deal with CO2 and other dangerous, man-made gasses...
Except, the main country that is in fact promoting GMOs, the United States, is not "a Party" to the Convention. The United States does not to agree with anything that is decided at the UN level, regarding food crops, or any other organisms (be it dolphins, whales, rice, wheat, cotton...) so others - especially African or Asian countries, are very active at CBD conferences. Just like the United States is not "a Party" to the climate change negotiations.
Image from IPS -
India to Conserve Biodiversity at Grassroots
- India's National Biodiversity Authority (NBA) is actively promoting decentralised grassroots livelihoods as the best way to conserve biodiversity as mandated by the Nagoya Protocol on access and benefit sharing (ABS).
On Tuesday, Indian Prime Minister Manmohan Singh had announced at the 11th Conference of Parties (COP 11) to the Convention on Biological Diversity (CBD) India's ratification of the Nagoya Protocol, and pledged 50 million dollars for national biodiversity conservation efforts.
At the 2010 meeting of the CBD in Nagoya, Japan, the parties had agreed to halve by 2020 the rate of habitat loss, restore degraded ecosystems and work to prevent the extinction of threatened species.
But, finding the hundreds of billions of dollars needed to achieve the 20 'Aichi Targets' of the protocol has proved problematic and so far dominated the COP 11 deliberations running in this south Indian city from Oct. 8 to 19, with over 174 countries participating.
If you have read this far, thanks a lot.
I'm sorry, but it is complicated. If you try to understand what is going on with the convention about climate change, well, this matter of saving biological diversity is not easier. So, for the past 10 or so years, I have made some effort to keep up-to-date.
Except, I didn't make it to Hyderabad in 2012. I had to go to Bucharest, Romania instead for another UN convention, the Ramsar, about wetlands... But a delegation of my esteemed colleagues from Consumers Union of Japan went... And came back, with lots of stories... Holding a huge conference in a developing country - there are issues. Like power outages, that India had promised that the distinguished delegated would not experience. Like huge amounts of garbage, that said delegates take for granted will somehow magically disappear... (Does not happen)
Hyderabad made every effort to successfully host the 11th Conference of the Parties (COP11) and the 6th Meeting of the Parties (MOP6) and a lot of issues were covered. Here is what we posted over at Consumers Union of Japan (NGO/NPO founded in 1969, that you could all support by paying only
7,000 yen to become a member
).
Highlights From The Negotiations In Hyderabad About Biological Diversity
Updates about GMOs from the Convention of Biological Diversity
It is not always easy to follow the details of the discussions and negotiations of international agreements… Media pays scant attention or ignores important concerns. Governments provide a massive amount of information but it is not easy to find or digest. Fortunately, NGOs are usually present both in the conference hall and in the corridors. For the current round of negotiations in Hyderabad, India, groups like
CBD Alliance
publish a newsletter called ECO with easy-to-understand updates.
ECO MOP6
ECO COP11
Here are some highlights:
For the initial meeting, MOP6, many worried that the so-called Roadmap about genetically modified organisms would not be endorsed. This Roadmap deals with risk assessment, to make sure that countries know what they are getting into if they import certain GMOs that may disturb or pose a threat to their local biological diversity. Without proper risk assessment, countries will not have the tools necessary to take into account recent developments in risk research.
There was anger that the United States (not a Party to the Convention of Biological Diversity) has voiced its opposition to work regarding the consideration of socio-economic consequences of genetically modified organisms. Philip L Bereano, Washington Biotechnology Action Council, notes that the US has sponsored literally thousands of socio-economic assessments as part of government policy to aid decision-making. Why not for GMOs?
During the main meeting of the COP11, there was also great concern that the negotiators would suddenly "rewrite history" by editing out an earlier text that many NGOs and governments feel strongly about, regarding so-called "Terminator" crops. These are genetically modified to not be able to produce new fertile seeds, thus undermining the ancient right of farmers to save their own seed from their harvest. Such GMOs, dubbed "Terminator" back in the late 1990s, would give biotech companies like Monsanto (that holds the patents to the Terminator technology) immense power over global food production. Activists in Hyderabad were indignant that instead of deleting old decisions, countries should implement what they agree on at the CBD meetings! Finally, it was agreed to retain the text, after swift action from six countries.
Regarding genetically modified organisms, ECO published the following list of countries in the Asia Pacific region and how they deal with genetically modified organisms (GMO) by 2012: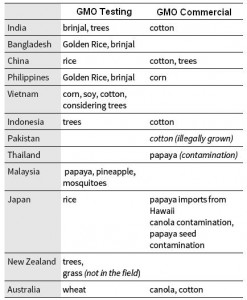 Read our proposals to the Japanese government before the Hyderabad conference:
Protect Biodiversity From GMOs: Hyderabad MOP6 Meeting
Protect Biodiversity From GMOs: Hyderabad MOP6 Meeting
CUJ has joined other NGOs from around the world for the 6th Meeting of Parties (MOP6) of the Convention of Biological Diversity.
The United Nations conference is held in Hyderabad, India October 1-5, 2012. Just over 2 years ago, everyone met in
Nagoya for the MOP5
, as negotiators finalized the
Nagoya – Kuala Lumpur Supplementary Protocol on Liability and Redress
, the important legal instrument to deal with damage due to genetically modified organisms (GMO).
Official website:
COP/MOP6 Biodiversity Policy & Practice
September 30, 2012
Proposals for Japan to Introduce a National Legislation Regarding the
Nagoya-Kuala Lumpur Supplementary Protocol:
A Call for Action on the Conservation and Sustainable Use of Biological Diversity
Through Strict Regulations on the Use of Living Modified Organisms
Amend Japan's Current Domestic Cartagena Protocol Legislation
* * *
Japan Citizens' Network for Sustainable Food and Agriculture
Amagasa Keisuke
Kawata Masaharu
It is an undeniable fact that Japan imports a large amount of genetically modified organisms/living modified organisms (GMO/LMO). In recent years, we have seen a number of cases of problems where domestic agricultural products are genetically contaminated due to such imported GMOs.
During the course of the nation-wide investigations that we and other civic organizations have undertaken since 2004, wild-growing GM rapeseed (canola) plants have been found all around Japan, ranging from Hokkaido in the north to Chiba Prefecture, Hyogo prefecture, and Fukuoka Prefecture in the south. There have been many cases of hybridization and suspected cases of stacked traits (several GM traits in one type of organism), as well as crossing with other species that are related to rapeseed within the brassica family.
In Mie Prefecture, which for decades have carefully protected local speciality brand crops, it was decided to use seeds from outside the prefecture due to fear of GM contamination within the region.
In 2011, papaya-growers in Okinawa Prefecture were found to be using illegal GM papaya imported from Taiwan. The farmers, who did not even know that their trees were genetically modified to resist virus infections, had to cut down all their trees, incurring losses up to 70 million Yen.
In order to deal with these problems, Japan Citizens' Network for Sustainable Food and Agriculture strongly urges the Japanese government to sign and ratify the Nagoya-Kuala Lumpur Supplementary Protocol, and amend its current national Cartagena Protocol law:
Proposals:
1) Amend Japan's national legislation so that it reflects all the important issues raised in the Nagoya-Kuala Lumpur Supplementary Protocol, and take the international lead in ratifying the Nagoya-Kuala Lumpur Supplementary Protocol. Take special note of the following key issues:
1.a) Ensure that the legislation includes a reference to Article 15 in the Rio Declaration on Environment and Development regarding the precautionary principle.
1.b) The term "damage" should include any negative influence to the biological diversity related to ecosystem services as a whole, such as agriculture, forestry and fisheries, and to the health of human beings.
1.c) The term "operator" should include the developer, producer and exporter (i.e. all who are involved in the marketing process) that contribute to commercializing the genetically modified organism.
1.d) In the case of damage, the redress system should give priority not only to financial compensation but to actual restoration to the original state.
1.e) Enact a special civil liability system to cover damages casued by the import of GMOs. Incorporate the following items in the system:
- The system should be based on strict liability.
- Ensure that the operator has retroactive obligations.
- Specify the centralized responsibility.
- Secure the victim's right to take legal action.
- Ensure that an insurance fund is set up to cover the liability of operators in the case of GMO export and imports, in order to avoid any situation of insufficient compensation due to bankrupcy, etc.
2) Revise Japan's current domestic Cartagena Protocol legislation and make sure that the related laws fully reflects the Cartagena Protocol. Take special note of the following key issues:
2.a) Ensure that the legislation includes a reference to the precautionary principle.
2.b) The target should include any activity related to ecosystem services as a whole, such as agriculture, forestry and fisheries, and the health of human beings.
/END/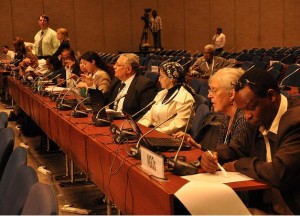 (More photos can be found on
Linkages
, October 1, 2012)